Dear Friends,
Even though a lot has been going on in this short amount of time, the House was successful in sending most of our important bills to the Senate before the May 1st Crossover deadline. However, the history that is unfolding in front of us is amazing. Back in March of this year, South Carolina experienced a very odd and unique situation when Lt. Gov. Ken Ard resigned from his office due to ethics charges, Sen. Glenn McConnell was then forced to resign the President Pro Tempore position as well as his Senate Seat, Sen. McConnell was then Sworn in as the new Lt. Governor while Sen. John Courson was elected the new President Pro Tempore of the Senate.
Now there seems to be a much larger historic event unfolding this week in Columbia. Over 100 candidates seeking to run against incumbents or running for open seats have been ordered off the ballot by the SC Supreme Court. This ruling has both parties scratching their heads wondering how it happened and what to do next.
I visited North Augusta Elementary School Monday April 30 and thoroughly enjoyed meeting with everyone. I have one more tour left at the Aiken County Career Center on May 7th.
I hope that you find this update helpful and informative:
The SC Supreme Court Drops a Bomb:
A state Supreme Court ruling has thrown hundreds of candidates off the ballot. Any candidate that did not file a statement of economic interest on time will not appear on the June primary ballot. The ruling does not affect incumbents, because they already had statements of economic interest on file. Candidates who were challenging incumbents, or running for open seats and did not file a statement of economic interests by noon on March 30 are disqualified. Both parties filed motions with the court in an effort to get the Justices to reconsider their unanimous decision. The request was denied.
Below is the Statement from the Supreme Court:
We fully appreciate the consequences of our decision, as lives have been disrupted and political aspirations put on hold," the court wrote in a unanimous decision. "However, the conduct of the political parties in their failure to follow the clear and unmistakable directives of the General Assembly has brought us to this point. Sidestepping the issue now would only delay the inevitable.
Department of Administration:
The House advanced the most comprehensive reform plan yet by amending its Department of Administration bill (H-3066). Since 2008, this is the 4th restructuring measure to pass the House and follows the Senate's 1st time ever acting on DOA Reform earlier this year. In the most comprehensive restructuring proposal ever put forward, the House protects taxpayers by focusing on good government solutions that:
• Totally eliminates the Budget & Control Board (B&CB)
• Protects SC's AAA Credit Rating
• Streamlines operations & increases efficiencies by cutting government waste
• Cuts 10% of old B&CB workforce by eliminating 147 vacant Full Time Equivalent positions (FTEs)
• Governor given full Executive Authority & responsible governance maintained:
• 90% of Funds & 82% of FTEs into Governor's "Dept. of Administration"
• 3% of Funds & 7% of FTEs into "Contracts & Accountability Authority"
• 3% of Funds & 5% of FTEs into "Revenue & Fiscal Affairs Office"
• 4% of Funds & 6% of FTEs into existing agencies to strengthen services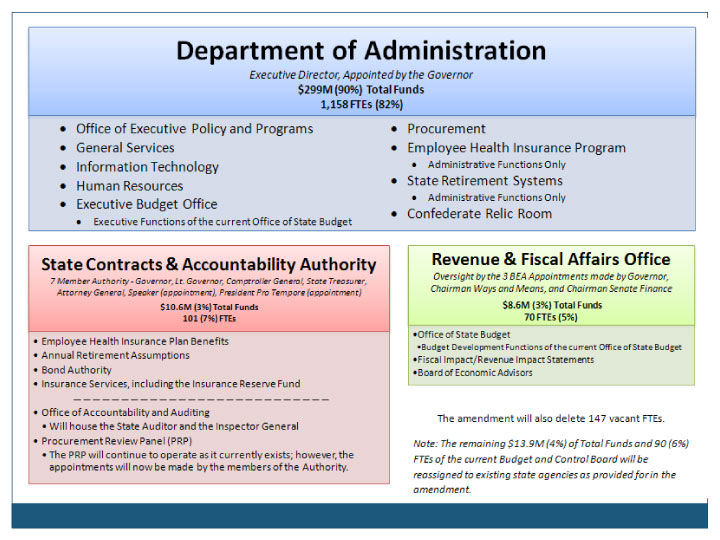 Click Here to View Larger Image
North Augusta Sunday Alcohol Referendum:
As early as November, North Augusta voters could see a referendum on the ballot that will allow them to decide on Sunday alcohol sales. The City of North Augusta has expressed interest of allowing the citizens to decide whether Alcohol sales on Sunday in restaurants located within the city limits would be permitted. The current law only allows a Sunday alcohol referendum at a city general election, which at the earliest would be April of 2013. I was asked by the city to see what could be done to allow for a referendum to be added to the November's Presidential Election ballot or any election in the future. The bill that I sponsored was passed by a 91 – 11 margin. Now it is up to the Senate to pass and send to the Governor for the bill to become law. As Mayor Lark Jones says "I would like to remove any impediments that are keeping (businesses) from coming to North Augusta. A tremendous opportunity is available here."
Gov. Haley Cleared of Illegal Lobbying:
By a vote of 5-1, a House panel dismissed claims that Governor Haley illegally lobbied and broke ethics laws. The six-member House Ethics Committee met for more than a month behind closed doors looking into a complaint filed by John Rainey, a GOP fundraiser and activist.
Sales Tax Reform:
The House passed a sales tax reform legislation that did not go as far as it should have, but it is the best we can do at this point. This bill(H-4995) was developed in the Tax Reform Committee and they originally proposed eliminating more than $220 million worth of exemptions and lowering the overall sales tax rate from its current 6%. The bill that passed eliminated less than $13 million is exemptions. I was a co-sponsor of this bill and I also voted for it. I am confident that further sales tax reduction will be addressed in the next session.
Income Tax Relief:
This bill(H-4997) revises individual income tax provisions by eliminating the current four, five, and six percent income brackets and providing instead for incomes to be taxed through a revised and consolidated structure consisting of only three brackets of 0%, 3.75%, and 7%. The legislation includes provisions to ensure that no individual income tax burden increases as a result of these changes. The revised bracket structure applies for taxable years beginning after 2012. The was amended, approved, and sent to the Senate. I voted for this bill.
BUSINESS INCOME TAX RELIEF:
This bill(H-4996) reduces from five percent to three percent the tax rate for income derived from pass through trade and business arrangements, such as sole proprietorships, partnerships, and "S" corporations. The reduction is to be phased in over the course of four years under a gradual schedule that reduces the tax rate by 0.5% per year.
Property Tax Reform:
This legislation(H-4484) establishes provisions that allow a homeowner to claim the four percent property tax assessment ratio for two residential properties located in the state so long as the homeowner is attempting to sell the first acquired residence and this residence that is for sale remains vacant and unused. The four percent assessment ratio may not be claimed on both residences for more than one property tax year.
Freedom of Information Act:
The House amended and gave second reading approval to (H-3235), a bill making revisions to the FREEDOM OF INFORMATION ACT (FOIA) which establishes an individual's rights to inspect or obtain copies of public records and other government documents. It includes provisions for the electronic transmission and online posting of public records. Documents from meetings during the previous six-month period are included among the records a public body must make available for public inspection and copying. The bill requires agencies to respond in 15 calendar days rather than 15 working days. The bill also revises the fees that a public body is allowed to charge by: no more copy charges for records that are stored or transmitted in an electronic format; capping fees at the prevailing commercial rate for producing copies; and, prohibiting a public body from charging for staff time associated with gathering or reproducing the records. The legislation eliminates the current FOIA exemption provided for memoranda, correspondence, and working papers in the possession of individual members of the General Assembly and their immediate staff. The bill is scheduled for third reading Tuesday before the crossover deadline.
Gold and Silver as Legal Tender:
The House approved a bill that would allow gold and silver minted coins to be used as legal tender in SC. By a vote of 65-24, the legislation also calls for a study committee to research ways to implement using gold and silver in every day commerce. The bill states that no party is required to accept gold or silver as legal tender but if both the buyer and seller agree, then gold or silver can be used for that purpose.
Limited Liability Corporation(LLC) Protection:
The Limited Liability Company Act was originally intended to protect a LLC from personal liability as long as the actions were taken in the ordinary course of business of the LLC. The House has responded to an opinion recently issued by the South Carolina Supreme Court by reenacting a code provision. This bill(H-5150) has passed the House and has been sent to the Senate.
NIGHTTIME Hunting of Hogs, Coyotes & Armadillos:
In an effort to control growing populations of these destructive animals, this legislation allows someone with a valid hunting license and the landowner's permission to take coyotes, armadillos, and feral hogs on private property during the nighttime hours from one hour after official sunset on the last day of February to one hour before official sunrise the first day of July of that same year. The legislation allows for hunting with any legal firearm or arrow shooting device with or without the aid of bait, electronic calls, artificial light, infrared, thermal or laser sighting devices, night vision devices, or any device aiding the identification or targeting of species.
Home School Sports
The Senate unanimously approved a bill allowing home-schooled students to play sports and take part in other extracurricular activities at the public school that they otherwise would attend.
Video Gambling Prohibitions:
The House approved and sent to the Senate (H-4675), relating to PROHIBITED GAMBLING DEVICES. This legislation specifies that those who are licensed to hold and advertise special events such as bingo, raffles, and other similar activities intended to raise money for charitable purposes do not have the authority to make use of video poker machines, slot machines, or other coin-operated gambling machines and similar statutorily prohibited devices. The legislation also specifies that these prohibited gambling devices are not authorized for use in the sweepstakes and promotional games that beer and wine sales permit holders are allowed to conduct.
B-I-N-G-O Revisions:
The House amended and gave second reading approval to (H-3079), a bill providing for CHARITABLE BINGO REVISIONS. The legislation creates the Charitable Bingo Advisory Committee to address, in an advisory capacity, issues arising in the charitable bingo industry including, modernization of the industry, expansion of products, streamlining the regulatory process, and improvement of communication toward the ends of conformance and compliance with the Bingo Tax Act. The legislation provides for the committee's membership and requires a Department of Revenue employee, who is knowledgeable about the provisions of the Bingo Tax Act, to serve as liaison with the committee. The legislation provides for the establishment of an informational charitable bingo website by the Department of Revenue to serve as a clearinghouse for information and requires the department's response to inquiries as permanently accessible advisory opinions. The legislation provides for various revisions to bingo provisions. Notably, the legislation broadens provisions for a bingo gaming session to include several types of instant bingo games.
Joint Election of Governor and Lt. Governor:
Governor Haley is not to happy with the Senate version and the House may try to address her concern. The Senate approved a resolution asking voters whether the governor and lieutenant governor should run on the same ticket. The Constitutional Amendment would be on November's ballot allowing voters to decide this question. The House version asked whether the two should begin running together in 2014; the Senate version delays that until 2018.
School Bus Privitization Study:
This legislation creates a committee to produce a study on the decentralization of the provision of school transportation services in this state by the public sector, private sector, or combination of both that must address the most cost effective, efficient, and safe way to provide school transportation services to students in grades K – 12 utilizing available state and local resources and funding. The committee shall consist of eleven members, four members to be appointed by the Speaker of the House of Representatives, one of whom must be a school finance officer, four members to be appointed by the President Pro Tempore of the Senate, one of whom must be a school finance officer, and three members to be appointed by the Governor. With legislative and gubernatorial staff supplying needed assistance, the committee is required to submit its report by January 1, 2013, at which time the committee shall be abolished. The legislation also provides that a school district may not require or charge a fee to a parent or guardian of a child for access to school bus transportation to and from school.