Dear Friends,
We were all shocked to learn that last Saturday another tragedy occurred. Aiken has been mourning the loss of Aiken's Police Master Corporal Sandy Rogers who was senselessly killed Saturday morning in a shooting. She was honored with a candlelight memorial vigil on Tuesday of this week. I attended the Funeral on Wednesday and was truly amazed and proud of the enormous show of support for Sandy. I hope that everyone will continue to remember Sandy, her family and friends with prayers, and support.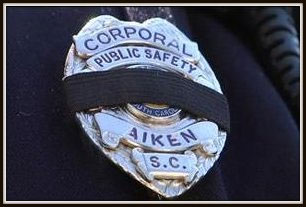 This is the second murder of a Aiken Public Safety Officer in less than six weeks. Aiken's Master Public Safety Officer, Scott Richardson, was the other officer killed in the line of duty. And if you remember a little over three months ago in Augusta, GA, Richmond County Sheriff's Deputy James D. Paugh was shot and killed in the line of duty too.
Law Enforcement personnel are a very tight family. When one goes down, all the others suffer too. When it comes to Law Enforcement members and their support for each other, there are NO City, County or State lines that separate them. Please keep all of the Law Enforcement families in our area in your prayers while they try to make sense of the tragedies. I have included in this update several items that we have been working on. There is a new leader at DHEC, some information about new custom license plates, a new alert program for SLED and much more in this week's legislative update.
I hope that you find this update helpful and informative:

Legislative Update – February 3, 2012
Blue Alert Program:
The House approved and sent to the Senate (
H.4636
) a bill establishing the BLUE ALERT PROGRAM within the South Carolina Law Enforcement Division (SLED) as a means of rapidly disseminating information to assist in apprehending a suspect who allegedly kills, seriously injures, or abducts a law enforcement officer. The program is designed to make use of the Amber Alert infrastructure established for the rapid recovery of missing and abducted children, including messages to motorists posted on South Carolina Department of Transportation electronic traffic signs and releases to broadcast media, to distribute information that can help locate a fleeing suspect who poses a serious public safety threat. I am a co-sponsor of this bill.
Vote to stop DHEC:
SC Department of Health and Environmental (DHEC) has been stopped from making decisions regarding the dredging of the Savannah River Port. The House unanimously approved a joint resolution suspending all DHEC decisions since 2007 concerning navigability, depth, and dredging on South Carolina's portion of the Savannah River. The controversy arose when DHEC's board decided to give Georgia a permit to dredge the Savannah River to a depth of 48 feet so they can expand their port. The resolution is intended to restore the authority of the Savannah River Maritime Commission and to override DHEC's November decision to grant a permit for the State of Georgia to dredge the Savannah River as part of Georgia's port deepening project. Both Charleston and Savannah ports need to be dredged so that they can handle the new larger ships. However, the legislators thought it was a horrible economic and environmental decision which placed Charleston's port at a competitive disadvantage and jeopardized the very existence of a future port in Jasper, SC. One of every five jobs in our state is directly tied to our ports and this issue is too important to ignore.
Right To Work Act:
Very bold and sweeping legislation was introduced last week. It was drafted to protect the rights of SC's workers. Every South Carolinian should have the right to work and make a living for his or her family without being forced to join a union or pay union dues unless they decide on their own. The Right to Work Act of 2012(
H-4652
) will strengthen our state's business environment so more jobs can be created. Among other things, the legislation requires employers to display a poster that informs workers of their state's Right to Work protections. The legislation also increases labor organization transparency and requires written authorization for any union dues to be deducted from a worker's paycheck. I am a co-sponsor of this bill.
More Jobs For Aiken County:
A maker of food service and food packaging has announced plans to expand its existing operations in Aiken County. Pactiv LLC. has decided to investment $5.5 million and it is expected that they will generate 25 new jobs over the next three years. In the past year, South Carolina has recruited more than $4.7 billion in investments and more than 13,000 new jobs in the manufacturing sector. I am a co-sponsor of this bill.
Freshwater Fish And Game Bill Signed by the Governor:
The House agreed with the Senate on amendments to (
H.3864
) and the bill was signed by Gov. Haley on Wednesday of this week. The legislation modernizes the state's FRESHWATER FISH AND GAME laws, with an emphasis on making the provisions more consistent and user-friendly. These provisions have not undergone a comprehensive update in over thirty years.
US Department of Energy – News on SRS:
The DOE had some news about SRS in a recent newsletter.
Below are links to the articles:
New License Plates:
The House amended Senate amendments to (
H.3124
), the Omnibus Special License Plate Bill, and returned the legislation to the Senate. This legislation authorizes the issuance of several new special license plates. In addition to creating these new plates, the legislation adjusts special license plate fees and revises other provisions relating to special license plates.
Trail Riding Law:
The House amended, approved, and sent to the Senate (
H.4475
) a bill to provide that Trail Riding Is Included Under Equine Liability Immunity Provisions which afford an equine activity sponsor or an equine professional immunity from certain legal liable for an injury to or the death of a participant resulting from an inherent risk of equine activities, such as steeplechases, rodeos, polo matches, hunter and jumper horse shows, and equestrian competitions. I am a co-sponsor of this bill.
SC Fair Tax Draws Support:
The S.C. Fair Tax Act (
H.3993
) gained two more legislative sponsors this week. There are now 67 co-sponsors out of 124 members on the Fair Tax in the House. This is a bill that Rep. Bill Taylor of District 86 in Aiken, SC sponsored. I am a co-sponsor of this bill.
Please be sure to stay up to date with all that is going on in Columbia. If you have any questions, comments or concerns, I am always available.
You can view Live Broadcasts of the South Carolina House of Representatives daily legislative sessions by clicking Here.
Thank you for the privilege of serving you in Columbia. If I can ever be of assistance to you, or if you have ideas on issues you want me to share with the rest of the General Assembly, please don't hesitate to contact me at Home at 803-278-0892 or at work 803-279-8855.
Sincerely,
Bill Hixon