Hello Friends,
I just wanted to tell you some of the things that we worked on the State House the past two weeks. The General Assembly was back in session to pass important absentee voting measures and to allocate the remaining federal coronavirus aid funds. The House of Representatives worked tirelessly to finish out the final legislative session of the year. This was our last opportunity for legislation to pass either the House or the Senate until we come back for a new legislative session in January. We worked closely with the Senate and the Governor to ensure necessary Covid relief funds were passed. We also had the opportunity to say goodbye to the Representatives who are retiring and hear about the impacts each of them made on South Carolina. I wish those members the very best and I'm grateful for their years of dedicated service.
The House has decided not to create a new state spending plan before we are certain that revenue estimates are on the right track. Between March and August, our estimated budget surplus dropped from $750 million to just $86 million. The Senate has passed a budget based on estimated revenue projections that we have sent to our Ways and Means Committee. As committed as we are to the items the Senate included in their budget, we as a state cannot commit to a budget we may not be able to afford. The revenue the Senate has set aside in their budget in case of an emergency might not be enough if revenues keep falling. We need to ensure we are not subjecting teachers, employees, and state agencies to budget cuts before we start spending new money. We are committed to passing a new spending plan come January.
SC Special Session Update
---
H. 5305 Allowing All South Carolinians to Vote Absentee
The House acted quickly this week to pass safety measures that give all South Carolinians the right to vote absentee in the upcoming general election. This legislation included setting an official start date for absentee voting to begin on October 5th and the last day to submit an in person absentee ballot request on October 30th. A provision was also included to allow county election officials to begin processing absentee ballots earlier than normal. This will give election officials more time to sort through the high number of absentee ballots expected. This legislation is a measured approach to make sure everyone can vote safely and securely in the November election.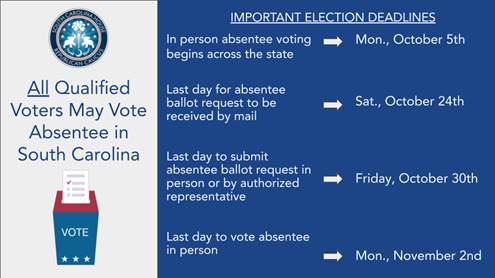 For More Information…
---
CARES Act Funding
I was proud to vote in favor of allocating the second portion of federal Covid-19 aid to meet the most urgent needs of our state. A large portion of the funds were reserved to replenish the state unemployment fund, which has been largely depleted since March. In order to address current shortages in law enforcement and state workers, I joined my House colleagues in voting to do away with the current earnings limitation for retirees. In an effort to help nonprofits and small businesses, we allocated funds to supply up to $25,000 grants for those who qualify. We also passed an important measure to exempt forgiven federal small business loans (PPP loans) from state taxes so businesses who needed them are not penalized. These funds were carefully debated in a special Covid-19 Ways and Means committee over the past few months to ensure the money was spent in the right places.
CARES Act Funding Passes Final Steps
The House met with the Senate one last time to finalize details for the second portion of CARES Act funding for South Carolina. This funding meets the most urgent needs of our state. We also repurposed unused education funds from the first phase of CARES funding to give schools more PPE, fund Virtual SC, and to provide tutoring for students having difficulties with learning as a result of Covid-19. See below for how we allocated the remaining federal funds.
DHEC Statewide Testing and Monitoring: $73 M
MUSC – Statewide Testing: $20.1 M
Unemployment Trust Fund: $420 M
Nonprofit Relief Program: $25 M
Minority and Small Business Relief Program: $40 M
State Agencies, Higher Education, and Local Government: $115 M
---
H. 3780 The Broadband Accessibility Act
We took the first step on Thursday in expanding broadband internet access across the state. This legislation will especially impact our most rural communities and will allow crucial access to virtual school, job training, and telemedicine. This legislation allows the state's electric cooperatives to construct broadband into areas they serve. I am hopeful that this is just the beginning of expanding internet access across the entire state.
H. 4431 Business License Tax Reform
This long overdue legislation finally passed the House of Representatives Wednesday night with an almost unanimous vote. The Business License Tax Reform Act reforms the way businesses are taxed and allows business owners tax relief while creating a more standardized application process. This legislation also stops the out-of-state contingency fee based private tax collectors from harassing our South Carolina businesses. I am proud to see this legislation pass and know this reform will tremendously help our small businesses.
H. 1071 Firefighter Cancer Healthcare Benefit Plan
I was proud to vote for legislation this week that will help cover insurance for firefighters if they are diagnosed with cancer. Before this legislation, South Carolina was one of the few states that does not provide this support to firefighters. The Senate has already approved the bill and now it heads to Governor McMaster's desk.
Other Legislative News:
Raffles to Resume Soon: Both the House and Senate passed S. 719 that will allow raffles sponsored by non-profit organizations to resume soon. The original legislation, passed five years ago, expired in June when the legislative session was interrupted by the pandemic. That was fixed last week.
Tax Break: The House voted unanimously in favor of S. 207 so those confined to a nursing home won't be penalized by having the property tax on their home reassessed and increased. Their home would continue to be assessed at 4%.
Disaster Relief: Both the House and Senate passed S.259 which will enable improvements to the coordination of disaster response and recovery efforts in South Carolina, building on the final report and recommendations from the Governor's 2019 Floodwater Commission. This legislation creates a State Resilience Office which will provide a clear path for understanding flood hazards and taking action to reduce exposure to flooding across the state.
Back to School Full-time: State Education Superintendent Molly Spearman is pressuring local school districts to offer traditional, in-person learning for what she says are some of the state's most vulnerable students. In a letter to school district leaders last week, Spearman encouraged schools to return to face-to-face instruction five days a week for "students who need it the most."
Election Relief: Governor McMaster has approved $5 million for the S.C. Election Commission to purchase electronic poll books. These devices replace the paper process used to check in voters when they cast their ballot. This funding will help election workers and speed up long voting lines on Election Day.
Almost Win for 2A:  We were on the brink of passing a real win for the Second Amendment this week but unfortunately, due to one member of the body wanting to score political points, it did not pass. S.293 would have allowed members of a church who meet in a school to carry a gun with a valid CWP. This really good piece of gun legislation was killed because it was not the perfect piece of legislation in one member's mind. This is not how democracy works and so called "Republican" Jonathon Hill should be ashamed of his actions.
Looking Ahead
This legislative session has been strange and unlike any other. When the pandemic forced session to screech to a halt mid-March, it also stopped much of our legislative agenda from moving forward. This agenda included massive education reform legislation, the fate of Santee Cooper, and of course the 2020-2021 budget that included everything from teachers' raises to improvements for our correctional facilities. Instead of the agenda we planned for, we were tasked with allocating Covid-19 relief money and legislation to ensure safety amid a pandemic. With the unexpected economic problems that arose this year, we found it best to listen to budget forecasters' concerns and not spend any new money until we are more certain of the economic future. I am hopeful that come January we will be able to accomplish everything we had to set aside this year. Until then, if you need anything please do not hesitate to get in touch with me.
One last thing…
For the first time since 1996, South Carolina is no longer in the top ten states of women killed by domestic violence. I am proud to say this is in large part due to the reform legislation passed by the General Assembly in recent years. This is great news for South Carolina!