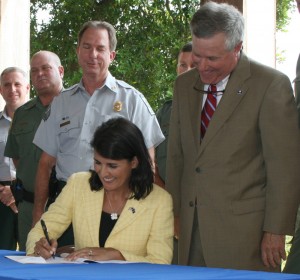 July 19, 2011 – North Augusta, SC
Governor Nikki Haley visited North Augusta to sign a bill that was authored by freshman Representative Bill Hixon – District 83. There was a very good turnout from citizens, colleagues and press.
The Interstate Wildlife Violator Compact was co-sponsored by over 30 colleagues on both sides of the isle. The bill calls for South Carolina to join the Interstate Wildlife Compact, which is like a drivers license compact. In the event you travel to another state and have a game or fishing violation, you will be treated as if you were in your home state; accept the citation from the officer and continue on your way. In the past, SC-DNR made a non-resident violator post bail on the spot or go to jail. This bill saves time and money for the game wardens. There is no cost for SC to join the Compact.
Below are links to photos, videos and articles.
The Story on the Aikenstandard.com web site.
Photo Slideshow
Video of Nikki Haley at Hammonds Ferry signing ceremony.
Here is WAGT Channel 26 News Video