Hello Friends,
I just wanted to tell you some of the things that we are working on in the State House. The General Assembly was back in session this week to pass important absentee voting measures and to allocate the remaining federal coronavirus aid funds.
SC Special Session Update
---
H. 5305 Allowing All South Carolinians to Vote Absentee
The House acted quickly this week to pass safety measures that give all South Carolinians the right to vote absentee in the upcoming general election. This legislation included setting an official start date for absentee voting to begin on October 5th and the last day to submit an in person absentee ballot request on October 30th. A provision was also included to allow county election officials to begin processing absentee ballots earlier than normal. This will give election officials more time to sort through the high number of absentee ballots expected. This legislation is a measured approach to make sure everyone can vote safely and securely in the November election.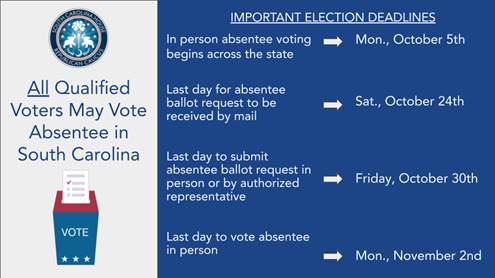 ---
CARES Act Funding
I was proud to vote in favor of allocating the second portion of federal Covid-19 aid to meet the most urgent needs of our state. A large portion of the funds were reserved to replenish the state unemployment fund, which has been largely depleted since March. In order to address current shortages in law enforcement and state workers, I joined my House colleagues in voting to do away with the current earnings limitation for retirees. In an effort to help nonprofits and small businesses, we allocated funds to supply up
to $25,000 grants for those who qualify. We also passed an important measure to exempt forgiven federal small business loans (PPP loans) from state taxes so businesses who needed them are not penalized. These funds were carefully debated in a special Covid-19 Ways and Means committee over the past few months to ensure the money was spent in the right places.
Looking Ahead
Next week, I will return to Columbia to finish the two-week special session. Legislation we take up must be related to Covid-19 or must have passed the House or the Senate before June. In light of the uncertainty surrounding Covid-19, the House has decided not to create a new state spending plan before we are certain that revenue estimates are on the right track. Between March and August, our estimated budget surplus dropped from $750 million to just $86 million. The Senate has passed a budget based on estimated revenue projections that we have sent to our Ways and Means Committee. As committed as we are to the items the Senate included in their budget, we as a state cannot commit to a budget we may not be able to afford. The revenue the Senate has set aside in their budget in case of an emergency might not be enough if revenues keep falling. We need to ensure we are not subjecting teachers, employees, and state agencies to budget cuts before we start spending new money. We are committed to passing a new spending plan come January.